Wind Tower Welding Line
Description of Wind Tower Welding Line:
This wind tower welding line, also called wind turbine tower production line, is specially designed for the submerged-arc welding of outer circular seam of wind power generator tower pole. It adopts cantilever structure, and can use several single cantilever structures to make up a welding workstation so that it can do multi-pass welding. In this way, its welding efficiency can be greatly increased.
This wind tower welding line is mainly composed of bending machine (rolling machine), CNC cutting machine, welding equipment, welding rotator set, and sandblasting and painting turning rolls.
Key Points in Wind Tower Production:
1. The single-stage wind tower tube is cone-shaped, and the diameters in the upper and lower part are approximate to each other, so users should strictly control the feeding of main steel plate.
2. Welding deformation between the flange and the tower tube should be strictly controlled.
3. Much attention should be attached to the matching and welding of the ring collar of the tube, because each stage of the tower is long. While the right straightness accuracy is assured, the matching efficiency can also be greatly improved.
Single Tower Tube Production Process:
Multiple Tower Tubes Production Process:

Tower Tube Sandblasting and Painting Production Process:
Main Components of Wind Tower Welding Line:
1. Bending Machine: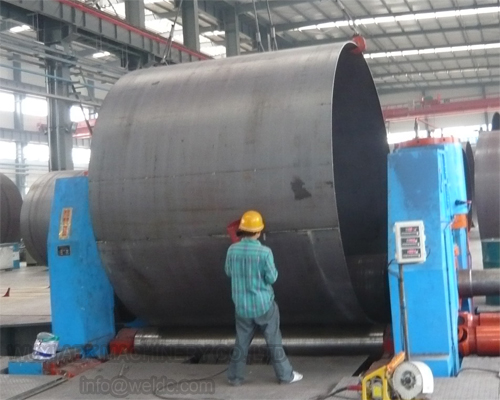 2. CNC Cutting Machine: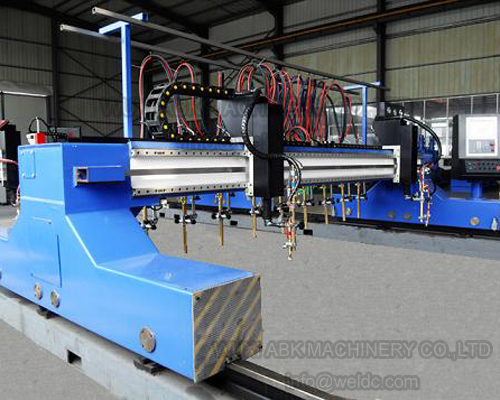 There are two kinds of CNC cutters for you to choose: CNC flame cutting machine and CNC plasma cutting machine, and both of them can simultaneously cut several plates, so the cutter is highly efficient.
3. Welding Equipment:
The welding equipment mainly consists of welding manipulator, submerged-arc welding system, automatic recycling feeding system, and welding rotator.
4. Welding Rotator Set:
The matching part and circular seam welding section of the wind tower tube are mainly made up of welding manipulator, submerged arc welding system, automatic recycling feeding system, welding rotator.
5. Sandblasting and Painting:
Turning rolls, with walking ability, are fitted to facilitate the sandblasting and painting process of the tower tubes. The painting turning rolls have adopted middle-concave roller wheels, which can be used to support flanges so that painting work can be finished conveniently. The motor is anti-explosive and dust-proof.